The Ultimate 3 Day Rotorua Itinerary
I'm going to kick this thing off by saying that there are over 400 different tourist attractions in Rotorua and choosing which how to build your Rotorua itinerary you want to select while you're here can be very difficult! I've outlined some of my favorite things to do in Rotorua and put them together to make what would be my ultimate 3 days of Rotorua activities and sightseeing. I've also tried to create a mix of cheap tours or even free exploring with some paid ones and covering many aspects of Rotorua sightseeing. Hopefully this helps!!!
Rotorua Itinerary – Day 1
Hire an electric bike from Electric Bikes Rotorua
Instead of driving everywhere to see just what Rotorua has to offer I honestly think a much better option is to hire an Electric Bike from Electric Bike Rotorua on Fenton Street. These things are awesome! They combine the fun of cycling and exercise with the ability to go much much further. This allows you to create your own personal Rotorua itinerary! You can travel up to 90km at speeds of up to 32kmph. This allows you to get around Rotorua and truly experience the sights without having to keep stopping your car. I've been out to Wai-o-tapu on one of these bikes which is a good 20mins drive out of town and it only took about an hour (and it was much more fun). They do rentals and picnic lunches so there is a wealth of options available on these bikes. You'll find their store at 1265 Fenton Street, one block down from the Duck Office and will really help you open up options on your Rotorua itinerary.
For more information: www.electricbikerotorua.co.nz
Kuirau Park, Government Gardens and Ohinemutu
It's your first day in Rotorua, so explore the city on your Electric Bike!
There are so many things to see in Rotorua, sometimes it's nice to just see what you can stumble across. My suggestion is to do a circuit, because once you've hired your bike you'll be very close to the Government Gardens so ask the friendly team at the bike shop to point you in the right direction and have a cruise through some beautiful gardens, iconic buildings, natural hot springs, information placards and so much more. This is why I suggest adding the bike to your itinerary as you can stop and start at your own leisure to see all these things.
Ride out to Sulphur Point for amazing, panoramic views of the lake. Follow the path from Sulphur Point that will take you to the bustling Rotorua Lakefront where you could take a moment to put your feet up on the shores of the lake looking out at Mokoia Island.
As you head past the front of the lake you'll see signs pointing to 'Ohinemutu'. Follow these signs and you'll find yourself at the village inhabited by the Ngāti Whakaue tribe in times of old. This village was chosen for it's abundant geothermal energy and access to resources this village is beautiful with combinations of Tudor and Maori style architecture combining to make something truly special. The amazing St Faiths Church is a prime example of these two combined styles.
Wai-o-tapu and Hot N Cold
Now you don't want to spend your entire itinerary in the central city and the joy of an electric bike, as I said  earlier, is that you can go up to 90km at 35kmph! Something that my friends and I have done on the electric bikes is gone all the way to Wai-O-Tapu Thermal Wonderland which is usually about a 20min drive or shuttle and it took us around an hour to get out there. The journey there is fun enough going past the entrance to the Waipa mountain bike tracks and also Rainbow Mountain where you can see all the different types of volcanic soil combining to make some cool colors! You can leave your bike at Wai-O-Tapu and have a walk around and see the geothermal wonderland, one of the most iconic spots in New Zealand.
Then if you are a bit sore or need to unwind from a busy day head past the Wai-O-Tapu booking office to the one lane bridge, head down the stairs by this bridge and you'll be in a hot spring where a hot stream meets a cool stream allowing you to find a temperature that is perfect for you.
After all that take the electric bike back and head out to one of the many amazing Rotorua eating or drinking locations for a nice relaxing unwind to reflect on the crazy amount of things you saw today!
For more information: www.waiotapu.co.nz
Rotorua Itinerary – Day 2
Redwoods Forest and the Redwoods Treewalk
I suggest starting off another busy day with a nice relaxing walk through the #1 rated attraction in
Rotorua on TripAdvisor, the Redwoods Forest. Best part, it's completely free to enjoy the largest plantation of the California Redwood (Sequoia) tree outside the state of California. There are tracks from 20mins to 8hours so there is something for everyone. If you are looking for the ultimate Rotorua Sightseeing experience honestly I can't stress how awesome this place is, it's one of the things you have to do when you visit Rotorua. You'll be lost in the beauty of this place, it's somewhere I spend a lot of my own personal time.
While you're there it's worth spending a few dollars to check out the Redwoods Treewalk. A series of 23 suspension bridges suspended between the 100 year old Redwoods providing a whole new perspective of the forest. You'll also find information on the viewing platforms on the way around adding to the experience even further.
Just a quick note if you are near this area again after dark then check out the nightlights that have been installed, its truly magical, kind of like being lost in a fairy tale!
For more information: www.redwoods.co.nz
Skyline
One of those iconic Rotorua activites and a 'must add' for the itinerary, with multiple tourism awards you should probably head up the gondola and see what's going on.
Ride the gondola up the side of Mt Ngongotaha and you'll find a whole hive of activities that can be undertaken. The most iconic of these is the luge, zoom down the hill on different speed and style tracks, race your friends and family and have a laugh. Youtube the luge if you've never heard of it before, its awesome! Skyline is also home to many shops and restaurants. You'll find the Jelly Belly factory up there with every flavour of Jelly Bean you can think of, Stratosphere Buffet Restaurant, Volcanic Hills Winery and so much more. One of those 'must check out' spots when you visit Rotorua.
The other amazing thing about Skyline is that you are on top of Mt Ngongotaha, so in terms of Rotorua sightseeing you'll also get spectacular views over the city and the lake.
For more information: www.skyline.co.nz/rotorua
Rotorua Duck Tour
Ok, so you had to assume I was going to put Rotorua Duck Tours into this itinerary, not because of bias but because it fits into the plan perfectly. The 3.30 Tarawera and Lakes tour allows you to explore the wider Rotorua lakes region and even go onto the beautiful lakes without leaving your seat.
On top of this you'll hear stories about Maori culture, geothermal activity, the lakes, our city and so much more. Hopefully you'll also have a laugh along the way. We honestly believe that the Duck Tour combines the thrill of riding on New Zealands only genuine World War II landing craft, with amazing Rotorua sightseeing experiences and learning the history and culture of our city. In terms of Rotorua activities, it's the whole package! The tour is two hours and covers so much of Rotorua including it's history, lakes, Maori culture, geothermal activity and so much more all while riding on New Zealand's ONLY genuine WW2 landing crafts! Play your cards right and you'll even get one of the world famous 'duck quackers' to make some noise at passers by, in my opinion it's a great way to round out an afternoon and we will happily show you why.
For more information: www.rotoruaducktours.co.nz
Rotorua Itinerary – Day 3
Hamurana Springs
As you may have worked out now I love starting my mornings with a walk and day 3 on my itinerary is no exception. Before you leave Rotorua you have to check out Hamurana Springs, one of the pinnacles of Rotorua sightseeing. This walk is suitable for all ages and fitness levels and will take you between 20mins and an hour depending on how long you want to enjoy the sights. You can see the source of the Hamurana Springs' crystal-clear water from a viewing platform just before you make a choice to either return on the same track or cross the footbridges, walking along the gravel track to the car park to make a circuit.
Hamurana is located 15 – 20 minutes drive north-east from Rotorua central, on the left-hand side of Hamurana road. You'll see plenty of signposts to help you find your way.
Edit: There is now a small charge fer entering Hamurana Springs.
Buried Village
One of the most visited historical sights in New Zealand with a truly amazing historical background.
As the name suggests the Buried Village of Te Wairoa was buried by Mt Taraweras devastating eruption in 1886 which you would have learned all about on the Duck Tour. The reason I suggest seeing this amazing Rotorua attraction is that you can actually start to piece together the damage caused by the eruption and how much it impacted the area, it's a literal immersion in the history of Rotorua. My theory is that if you are going to visit Rotorua you might as well be taking in everything that is has to offer and this is a prime example.
The Buried Village is located on the way to Lake Tarawera, you would have driven past it on the Duck Tour, simply follow signs to Lake Tarawera if you have your own car. If you don't have your own form of transport you can contact 'Grumpys', a local transport operator here in Rotorua who will take you out of the Buried Village for a small fee.
For more information: www.buriedvillage.co.nz
Tamaki Maori Village
Finish up your amazing Rotorua itinerary by transporting yourself back to the mid 1300's an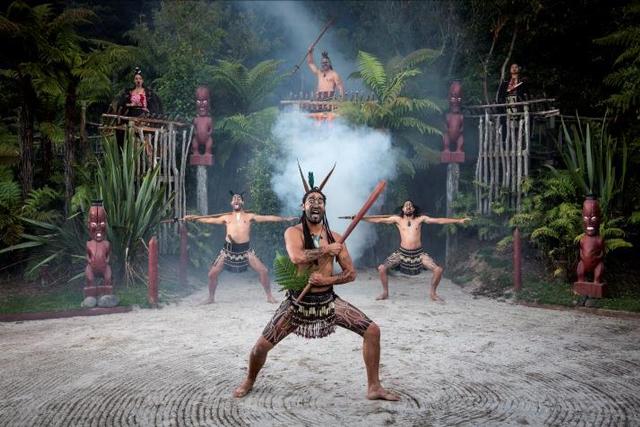 d book yourself in for the amazing evening experience at Tamaki Maori Village.
You'll be taken out to a genuine Maori village where you will be greeted in traditional Maori style before heading into the village to experience what life was like when the Maori arrived in the area back in the 1300's. You'll hear amazing Maori legend stories, play traditional Maori games, eat traditional Maori food and so much more! Honestly if you're looking to delve into the culture of Rotorua this has to be one of the best options to add to your Rotorua itinerary.
The Tamaki booking office is located right in the center of town just by the Government Gardens, around the corner from the Duck Office. They also pickup from hotels and motels so just book the tour at your accommodation and put your feet up until they come and transport you to a different time, it's something you'll never forget.
Fore more information: www.tamakimaorivillage.co.nz
There are SO many options of things to do in Rotorua, with over 400 different tourist attractions you can pick and choose what to add and remove from this itinerary but I've simply selected a great range of different ideas and my favourites. I'm not kidding you – I would do any of these things again, any day of the week. When you visit Rotorua make sure you head to the I-site or PeterPans Adventure Travel for information on all Rotorua attractions and also ask your Duck Driver after your tour. We also have a handy 'Planning your Rotorua Holiday' blog which is stacked full of handy information.
Enjoy your visit!