The Ultimate Romantic Weekend in Rotorua: A mid-winter Itinerary
People tend to think of romantic getaways to tropical locations but that's cliche. What you want is something special, something memorable and of course something romantic! A visit to Rotorua ticks all of these boxes. So finish work on a Friday, pack the bags and spend a love filled weekend in Rotorua. Here's a handy guide on how to make it happen!
Love is in the air!
Arriving on Friday night
Depending what time you managed to get off work and what time you arrive dictates how much you'll be able to do. The first thing you'll need is accommodation. Luckily with Rotorua being a tourist hot spot (excuse the pun) there are plenty of options in this regard. Aura Accommodation would be a perfect rest stop for your romantic getaway. It's the middle of winter and Aura harnesses the power of our geothermal wonderland and uses this for their heating keeping the rooms warm day and night. They also use it to heat the pools and water. They focus on sustainability, reducing their footprint and being as clean and green as possible. Their slogan is 'different, and deliberately so' and this sums them up perfectly. You'll love your stay there. You can see more about Aura here.
Saturday
Redwoods Forest
Rise and shine early on a Saturday morning and start enjoying your romantic getaway. I always say start the morning off by being active. If it's a clear day, grab a jacket and head to the Redwoods Forest for an early morning stroll. The Redwoods is my favorite place to be in the mornings because the light shines through the 100 year old Redwood giants and the native bush and it's truly magical. While you're there you could also do the Redwoods Treewalk which takes you up on suspended platforms for another unique perspective of the forest.
Artisan Cafe
After your walk grab a decent breakfast, or if you're that way inclined you could eat first and walk later. Either way a great place for breakfast/brunch in Rotorua is the Artisan Cafe, located right in the center of town. Check them out on Tripadvisor here. You'll get a hearty breakfast and on top of that the cafe is a beautiful little place where you can get cosy and really enjoy each others company.
Whakarewarewa – The Living Maori Village
By this stage it's likely mid to late morning. One of the things you have to do when you visit Rotorua is soak up some culture. Culture really brings people together and there's no better place than Whakarewarewa – The Living Maori Village. Take your partner to a village that is still actively used by two Maori tribes and steeped in fascinating history. You'll enjoy a guided walk around the village before heading to their cafe to enjoy a famous hangi pie. It's an experience not to be missed and a great way to spend a morning with your partner. It also covers lunch which is handy as well!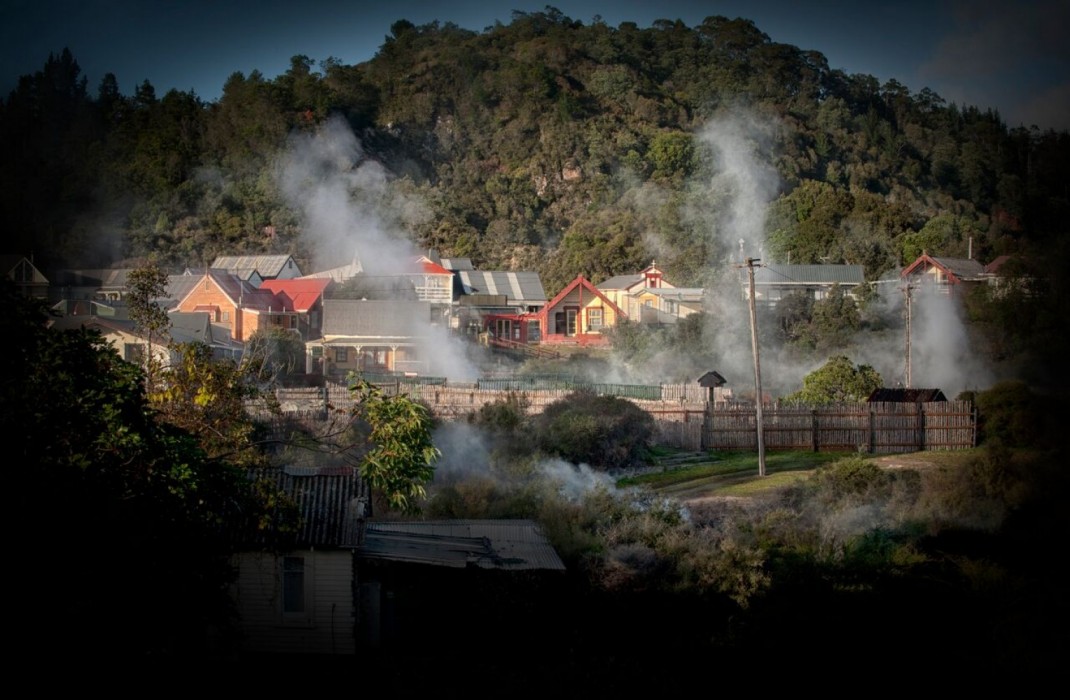 Rotorua Duck Tours
After your cultural experience and a bite to eat it's likely mid afternoon. You knew this was coming being on our website but jump on the 2.15pm Tarawera and Lakes Duck Tour! Sit side by side and cosy up under a blanket as you explore the beautiful lakes district of Rotorua. You'll splash down onto 3 beautiful lakes including Lake Tarawera, the site of the 1886 eruption that changed our history. There is also a chance for a coffee break at this lake to really soak it all in. Doing this tour in winter is great, the greens are greener than in summer and the lakes are all sheltered so stay calm and flat all year round! Going from land to lake without leaving your seat, getting out of town to the lakes district and learning about our amazing area is a great way to spend the afternoon with your partner. You'll laugh, you'll quack, you might even sing!
Ambrosia Restaurant
Dinner time! You'll of course want a romantic setting for your dinner so why not try Ambrosia Restaurant, located a short walk from your accommodation on the famous Eat Streat. It's a cosy little restaurant with an awesome selection of food and a great place to have a glass of wine together and reminisce on what has been an awesome day together.
Polynesian Spa
But it doesn't have to be over yet! Grab your togs and head to the Polynesian Spa. The deluxe spa is the perfect way to end your day. Find the right temperature pool and relax as you enjoy spectacular views over Lake Rotorua. With mood lighting in the evenings and a picturesque location you couldn't ask for a more perfect end to a perfect romantic day. After you're done it's back to the accommodation………. and I'll stop myself there.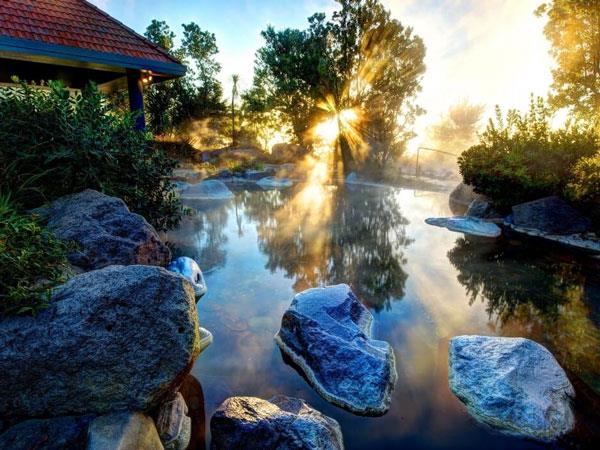 Sunday
Picnic Cafe
Don't focus on heading home just yet. You've still got the morning and maybe early afternoon to enjoy each others company in Rotorua. Maybe after the action packed day yesterday a sleep in might be in order (or another walk if you're an active couple) and then a quick bite to eat. This time wander over to Picnic Cafe, one of my favorite breakfast spots! Great food, nice atmosphere and awesome coffee.
Rotorua Canopy Tours
My first option is Rotorua Canopy Tours. This looks expensive but I can guarantee that it is worth every penny! You'll enjoy a beautiful walk through native forest hearing the songs of the birds and learning about the preservation efforts in the area. You'll also zip line through the canopy! A truly amazing experience that will never be forgotten, seeing the amazing native bush from a unique perspective. It's ranked as Rotorua's #1 outdoor activity for a reason! And don't worry about the cold because they provide beanies, gloves and big jackets to keep you warm while you're out there.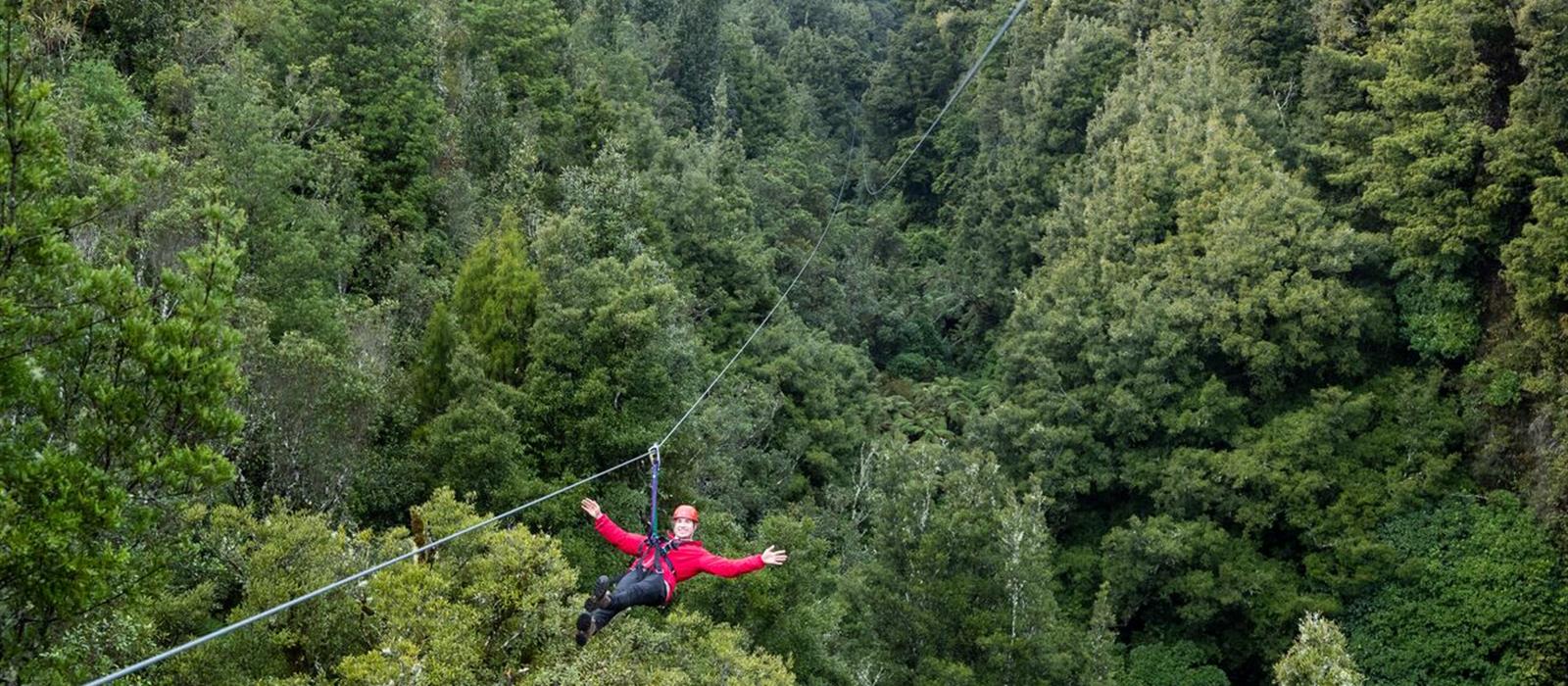 Ciabatta Bakery
Time for a last quick bite to eat before you head home. To leave a lasting memory head to Ciabatta Bakery. Some of the best sandwiches and cafe options you'll ever have await you. It's the perfect fuel before you have to head home, back to reality.
So there's a great itinerary for you. You can do all or some of these things or you can ignore me and form your own path. My partner and I have done all of these things and I can tell you we had an absolute ball. From experience you can't go wrong. But if you have any questions get in contact with us and we will be more than happy to help you out!
Good luck!